Dedicated Satellite Service(MCPC/SCPC)

A dedicated line service isa satellite network service that KT SAT offers by installing satellite facilities like antennas to customer's business site where private network is needed. Also, it provides data, voice and others by connecting private network between head office & site or site & site. The service is optimal for enterprise customers (such as government agencies & enterprises, construction companies, power producers, plant operators and others having offices and factories at overseas) who need private network for secured and stable quality.

Satellite Internet Service(Broadband)

Satellite Internet Service is a public internet serviceprovidedat a lower price than dedicated satellite service, using high quality satellite network of KT SAT. It is highly recommended for customers who need the network setup using VPN or simple internet access.
Mobile/Internet Backhaul Service(Backhaul)

A service that provides the expansion of mobile and Internet coverage to rural areas by connecting the core network of mobile service providers to remote sites or connecting the backbone of Internet Service Provider to remote sites, using satellite network.

Value-added service

5G-Satellite Hybrid Router : seamless handover between satellite & terrestrial connectivity(can be applied to any multiple networks)
Data usage monitoring
Base tower station & small cell solutions coverage extension
KT Group resources(5G, media, MVNO, etc.)
Service Features

High quality network with reasonable price
Rapid activation of service meeting customer's needs
24-hrs Systematic technical supports by professional engineers
Reliable customer service with the largest scale teleport in Asia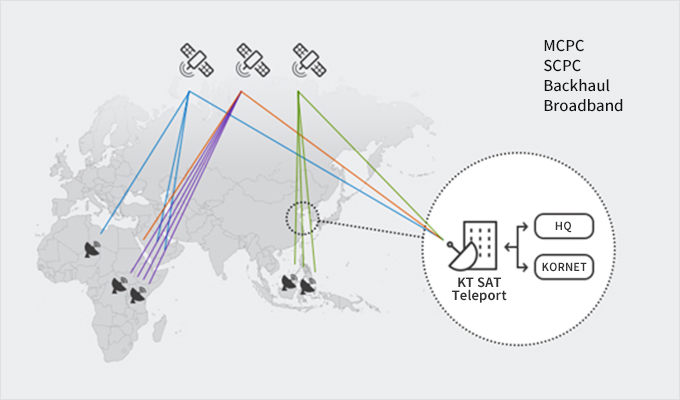 KT Group Global Network Infrastructure