Government & Military services

Satellite backup and disaster recovery network
Location information
Voice & alarms
Live transmission of high-quality video

Anti-jamming
OTM(On-the-move) connectivity
Telemedicine system, etc.
aircraft(helicopters, airplanes) solutions, etc.
Emergency
Network

Universal Service Obligation 이미지

Universal Service
Obligation

Government
Offices

C4I System
Network
Emergency Network

KT SAT provides effective and reliable emergency communication networks which help prevent and minimize the impact of disasters like earthquakes, floods, tsunamis, etc. KT SAT's satellite communication can be deployed anytime, anywhere even when terrestrial network. Since 2018, KT SAT, under partnership with KT(Korea Telecom), is establishingthe national emergency network in South Korea.
Disaster
Outbreak

Recognition

Deployment
request
Satellite
backhaul
vehicle
dispatched

Satellite terminal installation and connection to porable base station & Wired backhaul set-up

Handover from satellite to wired backhaul, satellite backhaul as backup system
Service Features

Rapid deployment and recovery of communication during emergency cases

: Portable hand-carry terminals, Easy to install and operate

Wider coverage for emergency network

: No limit to coverage expansion or geographical conditions within satellite footprint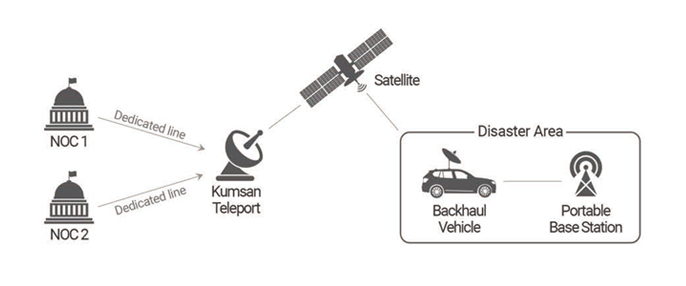 Fisheries Monitoring & Management

KT SAT established South Korea's satellite-based M2M fisheries management system and operates it in order to maintain a sustainable fishing environment.

Service Features

Establishment of M2M fisheries management systems

: Location tracking and monitoring features

Immediate response through database management

: VMS-based data analysis, IUU-suspected vessel detection and alarming

Comprehensive control over fishing areas and vessels

: Designation of restricted areas, Vessel information and statistics storage, Automated generation of reports