International Satellite Broadcasting Service

The service transmits contents of domestic broadcaster to overseas or receives contents of overseas broadcaster and provides those contents to network TV, MSO, IPTV providers along with various international events, sports games, symposiums and others.

The service is composed of Full-Time and frequent/regular(Occasional Use) broadcasting
The service can be used in various fields of broadcasters, broadcasting distribution of PP providers, religious broadcasting, domestic / international events, live sports games and others.

TVRO : TV Receive Only

The service transmits head office video contents(companies, churches and others) in high quality of HD-class to business sites all around and provides in-house broadcasting, advertisement, remote lecture/preach and others by allowing live and record viewing with TV or PC at each location.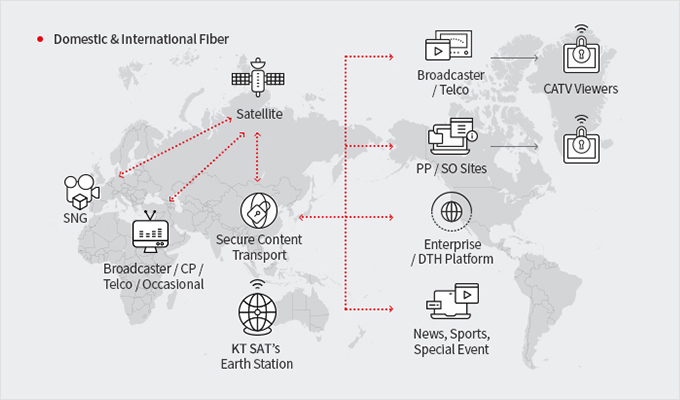 SNG(Satellite News Gathering)

The service transmits live broadcasting onsite through SNG vehicles for sports events, news reporting, event broadcasting, disaster report and other emergency images of places that cannot implement ground networks.

DTH Transmission Service

Kumsan Satellite Service Center is using KOREASAT Satellite since December 2013 to provide the transmission of HD, UHD channels behalf of KT SkyLife, who is the largest satellite broadcaster in Korea, and other domestic and international Broadcasting customers.
Service Features

High quality network with reasonable price
Rapid activation of service meeting customer's needs
Systematic technical supports by professional engineers
Large scaled facilities to handle various requests from customers